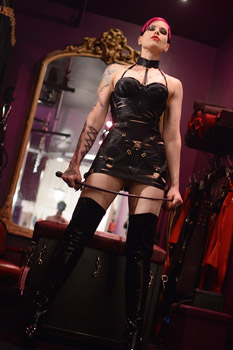 I derive a tremendous amount of satisfaction from simply being who I am, and doing what I do. I do not feel the need to conform to any stereotype, or standard. I am unique, and I wear this individuality, proudly. I have turned who I am into my career, and though love to play, this is not a game to me.
During my BDSM exploration, which began at age of 18, I discovered that I am a true kinkster at heart. Over the years I have delved deeply into almost all aspects of BDSM and fetish play.
With a broad spectrum of interests I find it challenging to answer the frequently asked question: "what is your favorite thing to do?" I really enjoy getting my subs to a place of true surrender though transformation, discipline and forcing them to put aside their personal needs for my gratification. I find the entire process very exciting
I use bondage, corporal punishment, humiliation, slut training, medical torment, financial domination, fetishism, golden showers, hypnosis and other techniques to obtain submission.
I am proud to say that most of my subs have been with me between 2 and 15 years. Over the years I have taken complete control creating very connected relationships. However, getting to a place of divine surrender requires establishing trust. Some of my subs most fulfilling moments come from what might have previously been unthinkable for me, or them. I treat Dom/sub relationships the respect and reverence they deserves despite the cruel, sadistic, humiliating, and torturous activities that I subject them to.