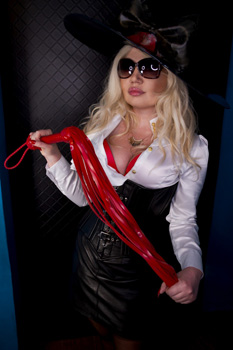 My name is Alicia Kaine London based Disciplinarian and Professional Dominatrix.I usually take bookings at my private dungeon in South London, zone two. Hence, I am always available for the same day bookings. My chambers are kink friendly, upkept to the highest standards of cleanliness, with a sofa setting for initial consultation and conversation before we start.

As a Dominatrix, I'm driven by passion, spontaneous and creative. However, I always believe in pre-planning in order to make the most of our time together, hence my sessions are always meticulously designed, for the best results and enjoyment. Talking and discussing your fetishes in detail when you arrive to my chambers is a must. I will discuss and take into consideration all of your likes and dislikes, after all they are powerful for me to script our meeting. I strongly believe in mutual respect and mutual pleasure, the time we spend together should be as exciting and erotic for me as for you.
I love using a variety of consensual techniques to encourage submission, and to change undesired behaviours and habits of my subjects. I adore a wide array of corporal punishments, from using the cane to my bare hand for spanking. With a few strokes of one of my tools, on occasion combined with a gentle pull on the nipple clamps, or perhaps a small adjustment on one of my many electrical devices, I will ensure your full devotion, leaving the mundane outside world a distant memory during our time together.
Although punishment is a cornerstone of what I enjoy, I also love a role play. For me it is not just an acting exercise. A convincing erotic and kinky role play requires sinking into the character and seeing the world through their eyes.
Beautiful and sophisticated, however, do not let my refined appearance betray you, as underneath lies a dark sadistic heart, which awakens when you are compelled to fall at my feet, bound in my own private chamber, with countless tools to my disposal. Your behaviour will be evaluated, you will be probed, examined and shaped. If you fail to meet my exacting standards, you will be punished, reinforced and disciplined. If you perform well, I will reward you. Your urge to be strapped down and disciplined will be fulfilled, while I release my sadistic desires on your defenceless body. If you have taken your punishment well, I might even allow you to worship me as your reward. It is that simple.