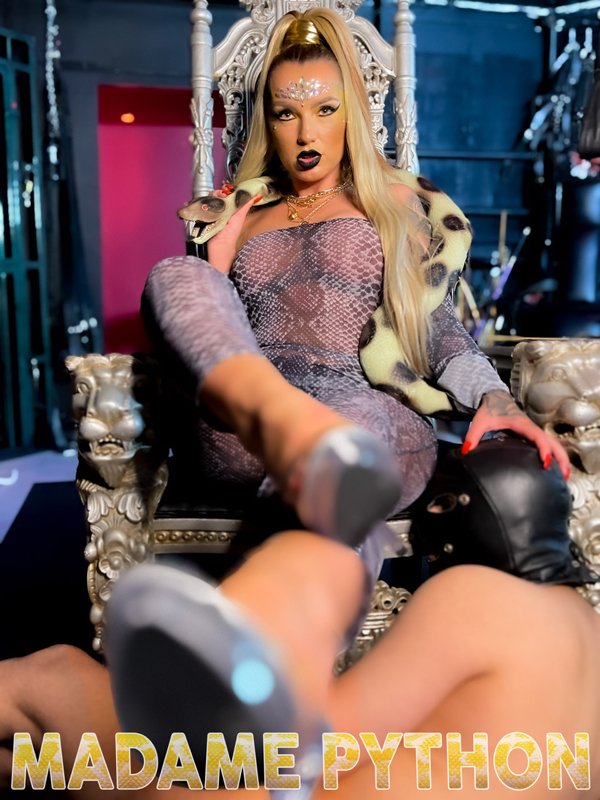 My name is Madame Python. I am a professional BDSM London mistress. Be careful what you wish for.
I am a strict dominatrix and frequently cruel. A natural FemDomme with a true love for my craft. BDSM is my life and my submissive's are my playthings.
I truly enjoy being worshipped. A blonde goddess awaiting your servitude. Do not step out of line. It gives me pleasure to punish and torture my submissive's who misbehaves during my dominatrix sessions.
I am a very busy Mistress and I'm particular about the submissive's who I choose are worthy to visit me. If you would like me to consider taking you as a submissive you can contact me via the booking form.
If you are successful with your application I require a £50 deposit in advance I will not entertain time wasters. I will not tolerate rude, disrespectful, disorganised or stupid behaviour.
I am always in demand and extremely busy, you are not the only person contacting me, so think before getting in touch and when you do, keep it brief and to the point.
Please turn up at the exact time of your session – do not arrive early. Under no circumstances arrive early and loiter outside, or ring the doorbell prior to your session start time If you arrive late, your session will still finish at the scheduled time and you will be charged for the full duration.
You should arrive well presented and must have a good standard of personal hygiene. I reserve the right to terminate a session at full-rate without refund if poor hygiene is evident.